Matthew 28:19-20: "Go therefore and make disciples of all nations, baptizing them in the name of the Father and of the Son and of the Holy Spirit, teaching them to observe all things that I have commanded you; and lo, I am with you always, even to the end of the age."  Amen.
PURPOSE STATEMENT:
"Our purpose is to share the gospel of Christ by loving, serving, teaching and encouraging locally and globally"
Guatemala Mission Trip
July 13th- 20th or July 20th- 27th
Informational meeting January 13th in Fellowship Building at 12:30 pm.
To view an overview of the trip click here:  2019 Guatemala Mission Trip Overview
To access an application, medical and consent forms click here:  Mission Trip Application, Medical, and Consent Form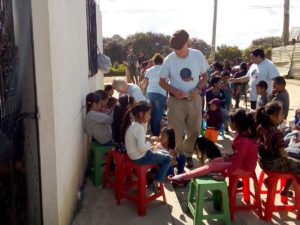 MISSION Committee and email address
Mission Committee Members:  Pastor Craig Dale, Pastor Dave Wiley, Stephen Mainer (Chairman), Linda Farrar (Secretary), Kim Chewning, Doris Hughes, Debbie Bowen, Erin Chewning, Traci Williams, Will Halker, Royce Lynn and Pat McCann
Send suggestions, ideas, or comments to missions@icbcga.org. They will be submitted to the Mission Committee and we will respond in a timely manner.  
Click a link below to view more information about the missions we support.
Acts 1:8:     "But you shall receive power when the Holy Spirit has come upon you; and you shall be witnesses to Me in Jerusalem, and all of Judea and Samaria, and to the end of the earth." Ivy Creek Baptist Church supports many local ministries.  Below you will find links and information about each ministry. Obria Medical Clinic of Gwinnett:   Formally known as the Pregnancy Resource Center the Obria Medical Clinic is designed to meet the needs of individuals…