Guatemala Missions
Ivy Creek Baptist sends a mission team each July to Guatemala to help local Pastors minister to their communities in Guatemala City and Patzun.  The communities we serve are impoverished areas where drugs, alcohol, and gang membership have taken their toll.  The teams visit local schools, homes, participate in church services, conduct VBS at local churches, and help with construction projects.  Our goal is to spread the gospel of Christ to these communities by loving, teaching, serving and encouraging.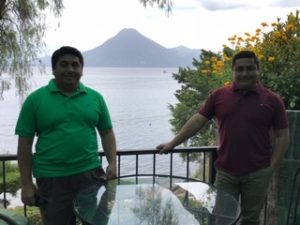 Pastor Jorge and Pastor Jaime
Thank you to the Emmaus Road Sunday School class for their generous gift.  Pastor Jorge and the Elim Bautista Church in Patzun were able to buy shoes for 25 children and 10 mothers.  Pastor Jorge sends his thanks.  He made a video for you to view the children getting their shoes.
Guatemala Mission Trip 2019
Ivy Creek Baptist Church is planning to send two teams to Guatemala in July.  The trips will be scheduled July 13th- 20th and July 20th- 27th.  If we only have enough people for one trip the trip will be July 13th- 20th.  More information will be available in the future.  If you have any questions you can email Stephen Mainer at smainer@bellsouth.net or at missions@icbc.org .
$100 deposit due February 10th.  If interested email Stephen Mainer at smainer@bellsouth.net or missions@icbcga.org.
For an overview of the trip click here:  2019 Guatemala Mission Trip Overview
To access application click here: Mission Trip Application, Medical, and Consent Form
Past Mission Trips
To view the 2018 Guatemala Mission Trip Report click here:  Guatemala Trip Report 2018
To view the 2017 Guatemala and Kenya Mission Trip Report click here:  Missions Report 2017
To see past mission trips watch the videos below.
 Guatemala 2015
Guatemala 2017
Guatemala 2018
To read the Guatemala 2018 mission trip blog click here:  https://ivycreekbaptist.org/ministries/missions/2018-guatemala-blog/
To read the Guatemala 2017 mission trip blog click here:  https://ivycreekbaptist.org/category/missions/guatemala/